Lapidary Machine CabPro4
CabPro4 - 4" wheel model
Do you do lapidary work?
This is a perfect system for you if you prefer working on smaller 4" wheels.

With our CabPro4 now you can take your lapidary shop with you anywhere you go. The CabPro4 is powerful & portable and the only all-In-One Lapidary System that is 12V-DC Battery powered. Take your own machine on your next RV trip, your club, or to your next Rock-Hounding Outing.

If you are a lapidary professional or enthusiast you will love this machine to saw, trim, grind, and polish your gemstone material anywhere anytime, no power outlet needed.

Powerful high torque 12V-DC operation - Flexible Wheel layout & Spacing - 4" or 6" Model with variable speed and digital readout - anodized 6061 aluminum base - ultra balanced stainless steel shaft. This is an amazing smooth running machine that is an absolute joy to work with. You got to have one!

*Made in the USA

FOR QUESTIONS OR PRICING CALL or TEXT : 808-987-4233
CabPro6 - Cut beautiful gemstones
The CabPro6 lets you cut beautfiul gemstones. Shown is a piece of California Turquoise. We are always available for questions regarding the cutting, trimming, grinding, or polishingof your gemstone material.. afterall.. we do have a lifelong passion for the art of larpidary ourselves and love to share our expertise..
Use a 4" or 6" blade
You can operate a standard 6" blade or for your finest materials mount an ultra thin 4" blade onto the shaft. Any blade made for a 5/8" arbor will fit.
Flexible wheel loading
Diamond Wheel ? Resin Wheel? Both? .. not problem.. as long as the wheel is for a 5/8" arbor you can create any combination of wheels you like. If you need larger spacing between the wheels you can just install the standard 4 , or you can go to our own preferred preference, the 6 wheel layout as shown.
Compact machine
The total machine weighs only 17-20 pounds, depending on wheel layout, so it is easily moved and a truly portable solution. Take it to your club, your next RV Trip, or on your next Rock-hounding outing. Always enjoy your own machine. No power outlet needed.
Flat Lap Attachment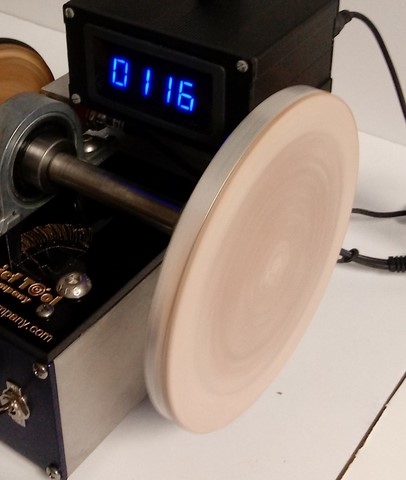 You can attach any lap or wheel that is made to be fitted on a 5/8" shaft on the left or right side of the machine. In this picture we attached a 6" flat lap on the right side of the machine with a mounted leather pad. Pefect for polishing with the use with Cerium Oxide.
Financing Available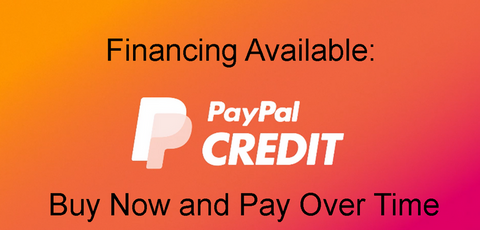 Now you can pay with Paypal Credit. Split your payment over 4 or 6 month. Longer Term Financing avaialble upon request.
Smooth Drive Wheel Operation
The CabPro6 is operated with a solid aluminum drivewheel and belt combo. Smooth and less vibration and less noise than other machiens.
Paragraph title
The CabPro6 comes with a variety of accessories like a spindle attachement for use with any buffing wheels. The solid aluminum flat lap flat lap can hold any kind of stick-on sanding or polishing discs.
12V-DC Battery Powered
Fully Portable - No power outlet needed. Power Cables to connect to the battery are included providing hours of lapidary enjoyment.
Your CabPro4 is portable...
Your all-in-one CabPro6 lapidary system fits in this standard toolbox, so it is easily portable to take it anywhere you would like to take it. Your next club meeting ( always great to bring your own machine ), your next RV trip, or to your next rockhounding outing at a mine. Be Flexible and enjoy working on your own machine wherever you go.
Made in the USA
FOR QUESTIONS OR PRICING CALL or TEXT : 808-987-4233

CabPro4 Specifications:
4" Wheel Model

Professional Portable Lapidary Machine :
Speed Controller: Variable ( 200 RPM - 2,000 RPM)
Display: Digital RPM
Wheel Size: 4" ( Pre-loaded wheel layout to your selection )
Motor Shaft size: 5/8"
Spring loaded clutch system
Cutting Table: Zero Clearance Blade System
Power: 12V DC ( Works of a 12V battery or ciggarette lighter adapter for hours!)

The 6" All-In-One System Includes:
4" x 1 1/2" Diamond Grinding Wheel - 220 Grit
4" x 1 1/2" Soft Nova Wheel - 600 Grit
4" x 1 1/2" Soft Nova Wheel - 1200 Grit
4" x 1 1/2" Soft Nova Wheel - 3000 Grit
Optional: 4" x 1 1/2" Soft Nova Wheel - 8000 Grit
Optional: 4" x 1 1/2" Soft Nova Wheel - 14,000 Grit
* wheels are with 1" hole and adapter for 5/8" shaft
Solid Aluminum Drive Pulley
* Soft Nova Wheels are MADE IN THE USA
Custom Wheel Packages quoted upon request



ACCESSORIES:
6" Polishing Lap
Arbor Adapter for Polishing Lap
4" Saw attachement including 4" 0-clearance blade table
OPTIONAL: 6' saw table for 6" saw
Spindle Taper for use with 4" or 6" Buffing Wheels
Precision balanced 5/8" Stainless Steel Arbor
Drip Tank ( single spicket that easily moves where needed ).
Drip Tray ( one for main machine, a separate one for the saw when used ).
Complete Toolkit & wrench for changing wheels, saw blade, etc.




DIMENSIONS / WEIGHT:
Machine Dimensions w/ shaft: 24" wide x 8" deep x 10" high
Main Base w/o drip tank: 18" wide x 8" deep x 8" tall
Saw Base 8" deep x 4" wide ( for use with 4" sawblade )
Weight: Machine only (w/o saw attachment): approx. 17 lbs.
Shipping Weight: 35 lbs.

MATERIAL:
Base: Hard Anodized 6061 Aluminum and Stainless Steel Hardware
Drip Tank: Crystal Clear Acrylic with single drip spicket and moveable Aluminum Stand
Drip Spicket: Stainless Steel


POWER:
Our machine works of any standard 12V-DC Battery.
The type of battery we recommend with our machine is a powerful compact 12V battery only 4"x6"5" available at most Home Buidling Stores, Hardware Stores or online. Use any standard battery charger to recharge.
For extended working hours we recommend to operate with a 2 battery swap system so you are always ready to run your machine. The advantage of operating with a battery is that the machine can draw as much power as it needs when under load.

FEATURES:
Portable
Powerfull High Torque
Professional Quality
Extreme Accurate Cutting with an "Easy Glide" cutting table
Utra smooth running machine that is quiet and minimizes vibration
Ultra balanced shaft with professional quality ball bearings
Versatile and Adaptable
Made in the USA
Developed and built by an award winning Gem Cutter and Certified Professional Gemologist "Stoneman Free"
Made in the USA
FOR QUESTIONS OR PRICING CALL or TEXT : 808-987-4233